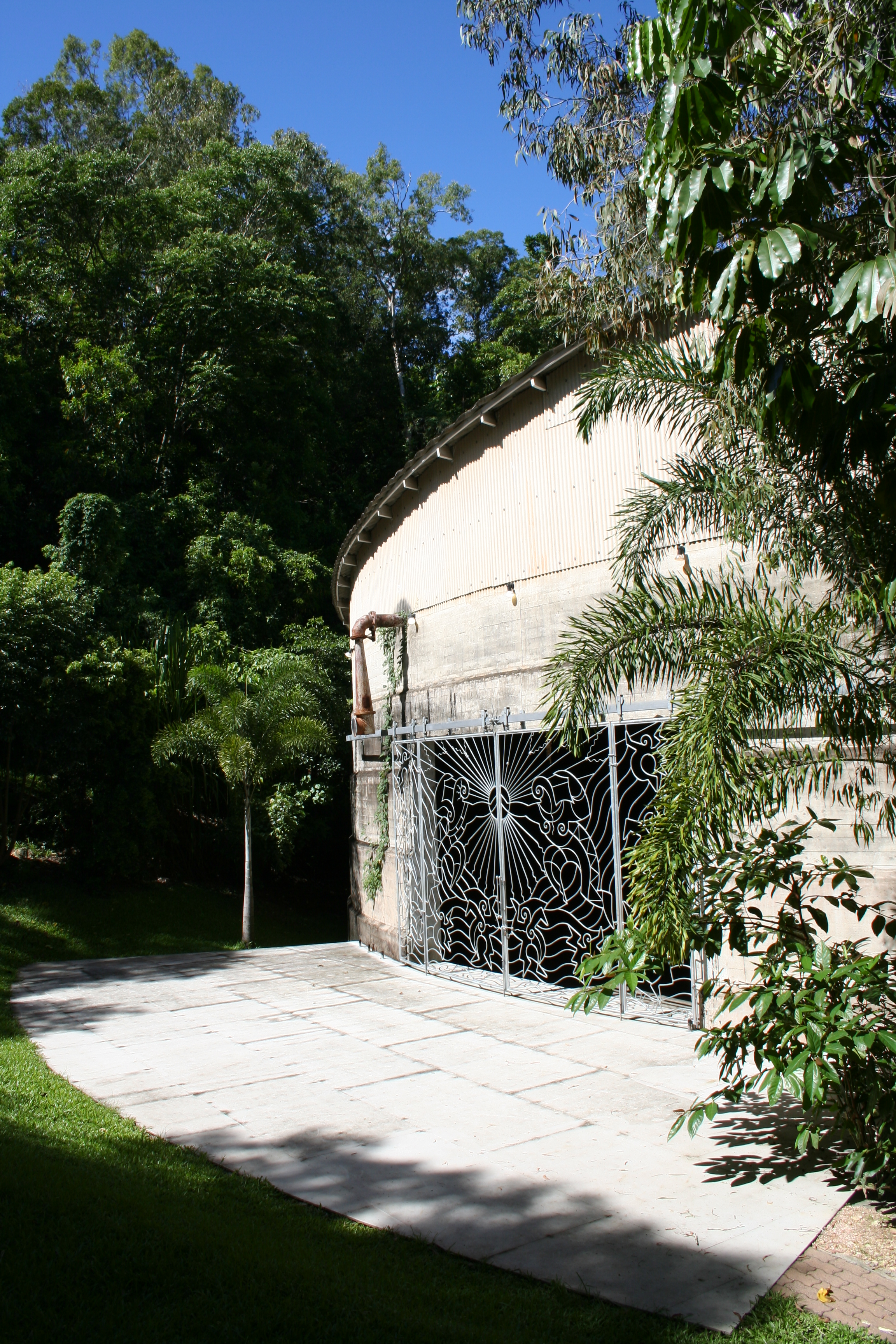 Tanks Arts Centre, Tank 5
The Tanks Arts centre is set in Cairns city's 38 hectare tropical rainforest, botanical garden and cultural precinct. The site was originally constructed as a crude oil tank store by the Royal Australian Navy in 1944, where it was carefully camouflaged and set into the rainforest shroud of Mount Whitfield, to protect the stored oil from WWII attack.
The oil was pumped in through an underground pipe system to Cairns harbour some 8kms away, remaining in use to supply the navy until the site was decommissioned in 1987.
The tanks' one metre thick walls were cut to create public access to the extraordinary internal spaces some 30 metres in diameter and over 8 metres high, with lofty oil stained timber columns supporting a timber roof structure.
The site, surrounded by large concrete walls and mounds, now partially enveloped by the invading rainforest, forms a unique backdrop to the centre which runs an extensive music/performance, gallery/display and function/major events programme. With each of the three tanks, known as Tank 5, 4 and 3 respectively, generally separately housing these activities.
The entire precinct was placed on the Queensland State Heritage Register in 2006.
Of the five original tanks, three large concrete tanks remain and in 1994 Roger Mainwood, Associate at Woodheads at the time, won the master plan design competition held by the Council to convert the precinct to a community arts facility.
This master plan set a framework for ongoing site development and which included a Curators' office in Tank 4 and the complete redesign of the Tank 5 Performance space, AV desks, back of house, Bar '5', ticket desk and installation of discreet modified climate control system.